How Obama lost his voice, and how he can get it back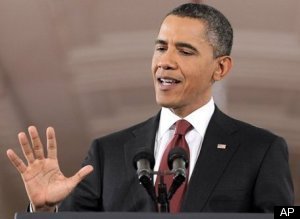 Barack Obama went from being a transformational leader in the campaign to a transactional one as president. It didn't work, and he must reverse course.
Jonah Goldberg: Straight-line predictions about the GOP's demise and the liberalization of America haven't turned out so well.
Editorial: So far, President Obama hasn't approved a single request for a pardon or commutation of a sentence. That's a disappointment.
Op-Ed: Did you love 'Toy Story 3'? Many did, and that should have told Democrats something — that Americans may like Obama personally but they aren't buying his agenda.
By Marshall Ganz
November 3, 2010
E-mail Print Share Text Size la-oe-1103-ganz-obama-20101103
President Obama entered office wrapped in a mantle of moral leadership. His call for change was rooted in values that had long been eclipsed in our public life: a sense of mutual responsibility, commitment to equality and belief in inclusive diversity. Those values inspired a new generation of voters, restored faith to the cynical and created a national movement.
Now, 18 months and an "enthusiasm gap" later, the nation's major challenges remain largely unmet, and a discredited conservative movement has reinvented itself in a more virulent form.
This dramatic reversal is not the result of bad policy as such; the president made some real policy gains. It is not a consequence of a president who is too liberal, too conservative or too centrist. And it is not the doing of an administration ignorant of Washington's ways. Nor can we honestly blame the system, the media or the public — the ground on which presidential politics is always played.
--------------------------------------------------------------------------------
Get the best in Southern California opinion journalism delivered to your inbox with our Opinion L.A. newsletter. Sign up »
--------------------------------------------------------------------------------
It is the result, ironically, of poor leadership choices.
Abandoning the "transformational" model of his presidential campaign, Obama has tried to govern as a "transactional" leader. These terms were coined by political scientist James MacGregor Burns 30 years ago. "Transformational" leadership engages followers in the risky and often exhilarating work of changing the world, work that often changes the activists themselves. Its sources are shared values that become wellsprings of the courage, creativity and hope needed to open new pathways to success. "Transactional" leadership, on the other hand, is about horse-trading, operating within the routine, and it is practiced to maintain, rather than change, the status quo.
The nation was ready for transformation, but the president gave us transaction. And, as is the case with leadership failures, much of the public's anger, disappointment and frustration has been turned on a leader who failed to lead.
Obama and his team made three crucial choices that undermined the president's transformational mission. First, he abandoned the bully pulpit of moral argument and public education. Next, he chose to lead with a politics of compromise rather than advocacy. And finally, he chose to demobilize the movement that elected him president. By shifting focus from a public ready to drive change — as in "yes we can" — he shifted the focus to himself and attempted to negotiate change from the inside, as in "yes I can."
During the presidential campaign, Obama inspired the nation not by delivering a poll-driven message but by telling a story that revealed the person within — within him and within us. In his Philadelphia speech on race, we learned of his gift not only for moral uplift but for "public education" in the deepest sense, bringing us to a new understanding of the albatross of racial politics that has burdened us since our founding.
On assuming office, something seemed to go out of the president's speeches, out of the speaker and, as a result, out of us. Obama was suddenly strangely absent from the public discourse. We found ourselves in the grip of an economic crisis brought on by 40 years of anti-government rhetoric, policy and practices, but we listened in vain for an economic version of the race speech. What had gone wrong? Who was responsible? What could we do to help the president deal with it?
And even when he decided to pursue healthcare reform as his top priority, where were the moral arguments or an honest account of insurance and drug industry opposition?
In his transactional leadership mode, the president chose compromise rather than advocacy. Instead of speaking on behalf of a deeply distressed public, articulating clear positions to lead opinion and inspire public support, Obama seemed to think that by acting as a mediator, he could translate Washington dysfunction into legislative accomplishment. Confusing bipartisanship in the electorate with bipartisanship in Congress, he lost the former by his feckless pursuit of the latter, empowering the very people most committed to bringing down his presidency.
Seeking reform from inside a system structured to resist change, Obama turned aside some of the most well-organized reform coalitions ever assembled — on the environment, workers' rights, immigration and healthcare. He ignored the leverage that a radical flank robustly pursuing its goals could give a reform president — as organized labor empowered FDR's New Deal or the civil rights movement empowered LBJ's Voting Rights Act. His base was told that aggressive action targeting, for example, Sen. Max Baucus (D-Mont.), chairman of the Senate Finance Committee — where healthcare reform languished for many months — would reflect poorly on the president and make his job harder. Threatened with losing access, and confusing access with power, the coalitions for the most part went along.
Finally, the president demobilized the widest, deepest and most effective grass-roots organization ever built to support a Democratic president. With the help of new media and a core of some 3,000 well-trained and highly motivated organizers, 13.5 million volunteers set the Obama campaign apart. They were not the "usual suspects" — party loyalists, union staff and paid canvassers — but a broad array of first-time citizen activists. Nor were they merely an e-mail list. At least 1.5 million people, according to the campaign's calculations, played active roles in local leadership teams across the nation.
But the Obama team put the whole thing to sleep, except for a late-breaking attempt to rally support for healthcare reform. Volunteers were exiled to the confines of the Democratic National Committee. "Fighting for the president's agenda" meant doing as you were told, sending redundant e-mails to legislators and responding to ubiquitous pleas for money. Even the touted call for citizen "input" into governance consisted mainly of e-mails, mass conference calls and the occasional summoning of "real people" to legitimize White House events.
During the 2008 campaign, transformational leadership defied conventional wisdom. Funds were raised in wholly new ways. Organizers set up shop in states that no Democratic president had won in recent times. Citizens were engaged on a scale never before imagined. And an African American was elected president!
Now Obama must take a deep breath, step back, reflect on the values that drew him into public life in the first place and acknowledge responsibility for his mistakes. He must reverse the leadership choices of the first half of his term. His No. 1 mission must be to speak for the anxious and the marginalized and to lead us in the task of putting Americans to work rebuilding our future. He must advocate, not merely try to mediate in a fractious, divided Washington. And he must again rely on ordinary citizens to help us move forward.
Although the stakes are greater than ever, only by rediscovering the courage for transformational leadership can he — with us — begin anew.
Marshall Ganz helped devise the grass-roots organizing model for the Obama campaign. His most recent book is "Why David Sometimes Wins: Leadership, Organization, and Strategy in the California Farm Worker Movement." He is a lecturer in public policy at Harvard University.
Copyright © 2010, Los Angeles Times
Related storiesFrom the L.A. Times
Obama's response: President plans post-election press conference
Obama grilled during 'Daily Show' appearance
In USC speech, Obama urges 37,500 Democratic voters to 'fight on'
E-mail Print Digg Twitter Facebook Read This Later Share
Comments (19)Add / View comments | Discussion FAQ
visibleholstein at 9:49 AM November 03, 2010
This article ignores the 800 lb gorilla in the room.
Before the election, Obama campaigned on vague ideals with little concrete substance to his cries for "change". In fact, one of the biggest criticisms levied against him by his opponents was that he kept ranting about "change" without providing much detail on exactly how he would achieve all the dramatic goals he talked about - getting out of Iraq, fixing the housing crisis, easing unemployment, repairing our international image, helping small businesses and the middle class, providing health care for everyone, reforming the financial market system... the list goes on and on.
The reason he "lost his voice" is simply that NOBODY could accomplish all those things, and when faced with the hard realities of enormous debt, a true quagmire in Iraq, and an economy largely controlled by large corrupt interests, he started backpeddling - first by handing over huge sums of middle-class tax money to the large corrupt financial institutions that ripped us off in the first place, then bailing out corrupt auto makers who had dug their own graves with greed and inferior products, simply "bailing out" of Iraq, and finally slamming through a healthcare plan that provides almost none of what he promised until 2014.
He "lost his voice" because he didn't keep his promises. Nobody could have.
theCanimal at 9:38 AM November 03, 2010
Obama must go. He's no different than Bush. They both are destroying the middle class.
EdtheC at 9:26 AM November 03, 2010
If Obama wants to stand a chance of being reelected in 2012 he will unload all those advisors who don't know Pelosi about how to run a country -- a city (Chicago) but not a country. Pelosi for brains Axelrod and Rahm Emmanuel should be the first to go and Eric Holder should be a close third!
The election results reflect as much dissatisfaction with the policies coming out of the White House as they do dissatisfaction with Congress.
http://www.latimes.com/news/opinion/commentary/la-oe-1103-ganz-obama-20101103,0,486277.story